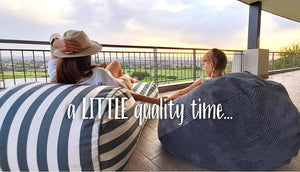 ... GOES A LONG WAY!
Keeping up with life's constant demands can be exhausting. At Little Beanbag Co. we believe every customer deserves their moment of joy, solitude or quality time. Designed with this in mind, our range of luxury beanbags is the ideal addition to create opportune moments in your home. Select a style that suits your lifestyle and discover what a little more comfort can do for you; browse our categories below.
A LITTLE BIRDIE...
Be the first to know about our upcoming promotions, product launches, specials and other valuable product tips or information. Subscribe to our newsletter.